12v portable car washer plastic garden hose nozzles pressure washer
Product Description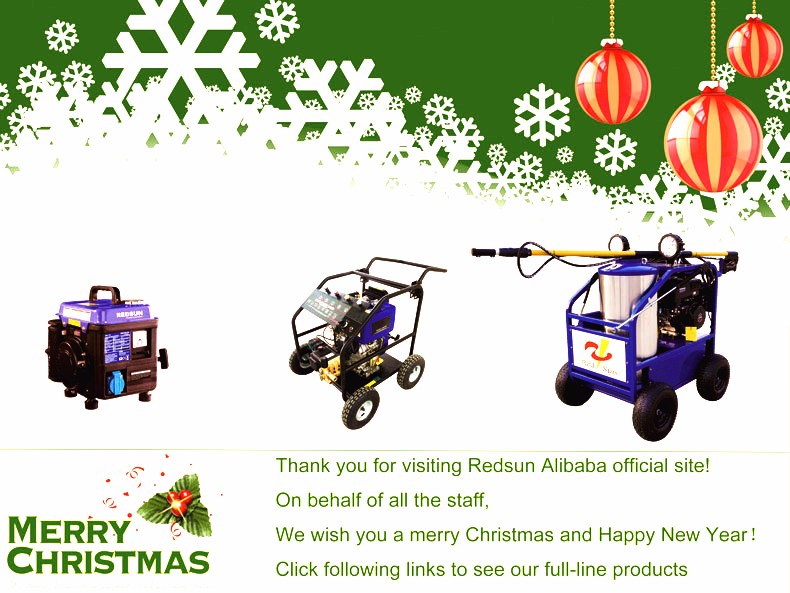 MAIN PRODUCTS
Inverter generators
MAIN PRODUCTS
Cold water washers
MAIN PRODUCTS
Hot water washers
10 HP Diesel powered hot water High Pressure Washer RSHW10D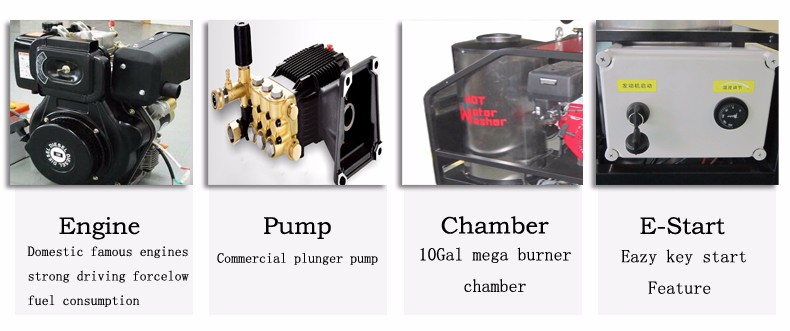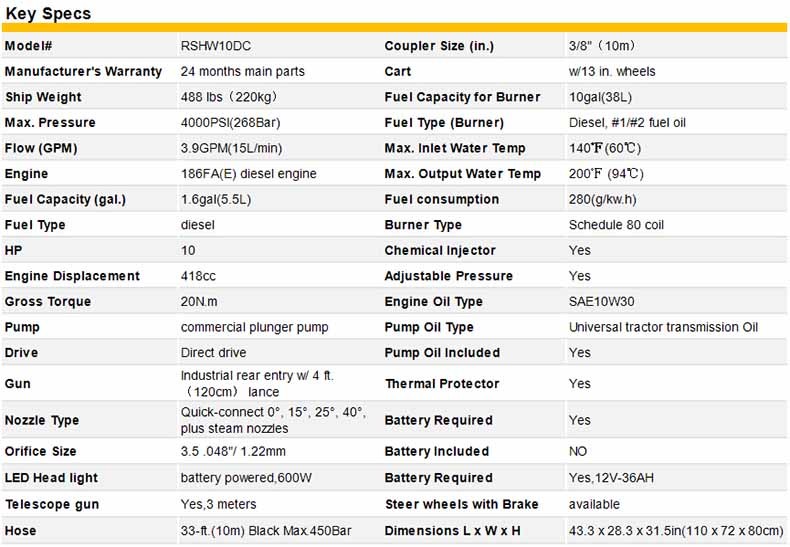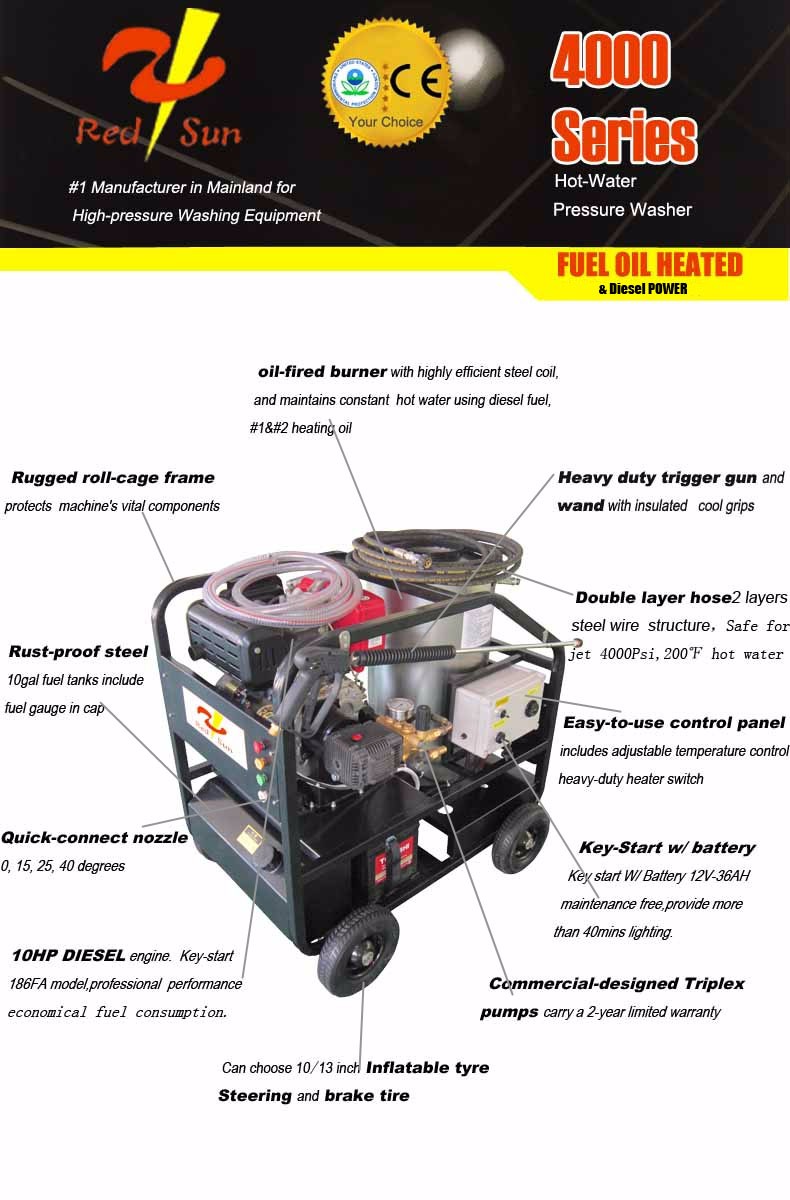 Redsun hot water pressure washers have different heating coils created specifically for the amount of water to be heated. And as an extra bonus, you'll feel confident knowing that they're all backed by 2-year warranties our hot washer are commonly used to clean:

Heavy Construction Equipment

Trucks, Cars, Trains and Planes or other Transportation 

Mining, Drilling and

Heavy Construction Equipment

Institutions such as swimming pool,Lawn equipment,Hoods and vents

Domestic Purposes and Upscale Homes like Playground equipment,Vehicles, light equipment

Select a pressure washer power type below to view our hot water line-up: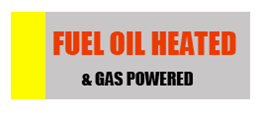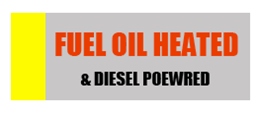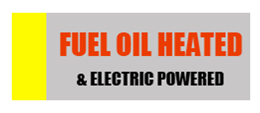 Gasoline Engine hot pressure washer
Standard HW15G series
Commercial HW15GC series
Hot steam HW15GS series
HW13GX series with Honda engine
HW13IC series  with Briggs engine
Diesel Engine hot pressure washer
Standard HW6D series
Standard HW10D series
Hot steam HW6DS series
Hot steam HW10DS series
Commercial HW6DC series
Commercial HW10DC series    
Electric powered Hot Water Pressure Washer
IEC standard high efficiency motor drive hot water pressure washer
NEMA standard premium efficiency motor drive hot water pressure washer   
How do I know if I need a hot water pressure washer or a Cold water pressure washer?
If the surfaces you are cleaning have any kind of grease or oil, you will need ahot water pressure washerto cut through the grease. If you're tackling caked-on dirt or mud,cold water pressure washerwill do the job. If you're still unsure about the type of pressure cleaning machine you need, please contact our sales team.
What's more important in a pressure washer: PSI & GPM?
The answer depends on your pressure cleaning application. When you have heavy soils to wash, GPM (gallons per minute) can be most important. When you have stuck-on grime, PSI (pounds per square inch of pressure) can be most important.
Despite what you see in advertisements or on a product label, volume is the deciding factor and a quality pressure cleaning system will provide the proper balance of volume and pressure. To make sure you choose the ideal power washing machine for your jobs, contact us for more details.
Should I consider a maintenance program for my cold & hot water pressure washer?
Pressure cleaning machines move water under intense pressure, which creates wear & tear on equipment. Coupled with the challenging environmental conditions these machines often operate in, regular maintenance is recommended. Regular oil changes are required on the engine and the pump. And parts that wear, such as belts, nozzles and hoses, need replacement when worn down. Failure to maintain your pressure cleaning systems can become a safety hazard.
What type of pressure cleaning accessories do I really need?
Pressure cleaning accessories are a relatively minor cost that can have a huge impact on making your cleaning faster and less expensive, while also saving wear-and-tear on yourhot &cold water pressure washers.
For example, the vast majority of pressure washers use far too much detergent. The detergent valve is usually opened all the way because the operators like to see lots of suds. A fixed orifice system can be installed to release the concentration of detergent needed to achieve maximum cleaning results while using the minimum amount of detergent.
A Hose Reel is another advantageous power washing accessory because it helps keep your pressure hose from lying on the ground where it can absorb oil and grease or be damaged by vehicles driving over the hose. A longer pressure hose makes it faster and easier to clean larger areas.
What is the difference between a belt-drive pump and a direct-drive pump?
A high-pressure pump does not turn on its own; rather it is driven by an engine or motor. Pumps driven by motor generally turn at 1100-1500 RPM while gasoline engines turn at a rate of 3000-3600 RPM (1450-3450 RPM for electric motors). There are two predominant ways to connect the pump to an engine or motor: directly (direct-drive) or with a pulley and belt (belt-drive).
Direct-drive pumps are more compact, helping to keep the weight and cost down. Today's direct-drive pumps have been engineered to hold up very well, even under constant use. The weakness, of course, is that a pump turning at 3600 RPM will wear out faster than a pump that turns at 1500 RPM.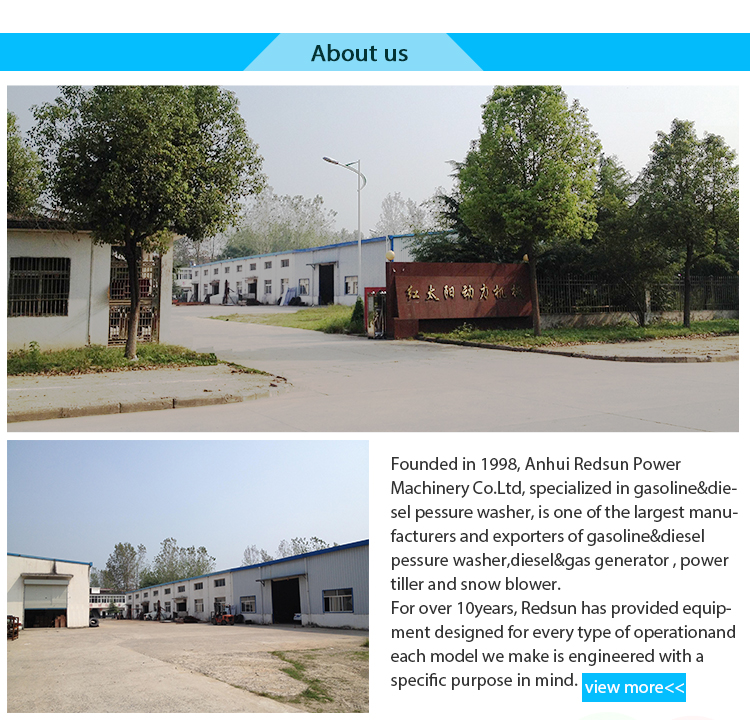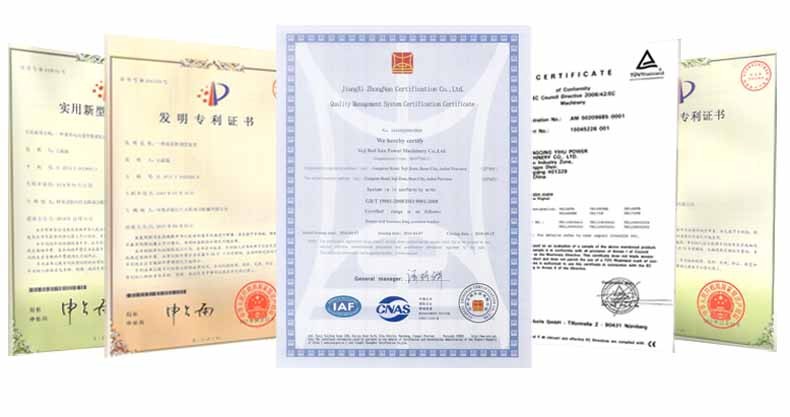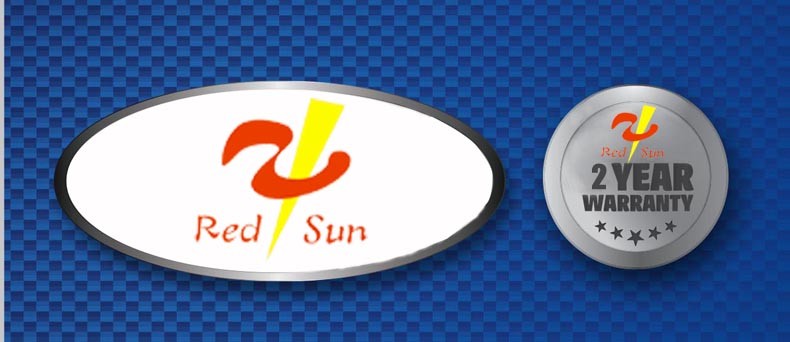 OUR 2-YEAR WARRANTY
We are so confident you will love your REDSUN that we offer a warranty on all of our high pressure washer with a 2-year limited warranty.
REDSUN LIMITED NEW PRODUCT WARRANTYPRESSURE WASHERSWHAT THIS WARRANTY COVERS
All REDSUN pressure washers are warranted by REDSUN to the original purchaser to be free from defects in materials and workmanship under normal use, for the periods specified below. This Limited Warranty is subject to the exclusions shown below,
is calculated from the date of the original purchase, and applies to the original components only. Any parts replaced under
this warranty will assume the remainder of the part's warranty period.
TWO YEAR PARTS:
Components manufactured by REDSUN, such as frames, handles, top and bottom wraps, float tanks, fuel tanks, belt guards, and internal components on the oil-end of REDSUN manufactured pumps. General, AR, Liberty, Comet and swash and wobble plate pumps have a one year warranty. Heating coils have a five year warranty from date of original machine purchase.
WHAT THIS WARRANTY DOES NOT COVER
This warranty does not cover the following items:
1. Normal wear items, such as nozzles, spray guns, discharge hoses, wands, quick couplers, seals, filters, gaskets,orings, packings, pistons, pump valve assemblies, strainers, belts, brushes, rupture disks, fuses, pump protectors.
2. Damage or malfunctions resulting from accidents, abuse, modifications, alterations, incorrect installation, improper servicing, failure to follow manufacturer's maintenance instructions, or use of the equipment beyond its stated usage specifications as contained in the operator's manual.
3. Damage due to freezing, chemical deterioration, scale build up, rust, corrosion, or thermal expansion.
4. Damage to components from fluctuations in electrical or water supply.
5. Normal maintenance service, including adjustments, fuel system cleaning, and clearing of obstructions.
6. Transportation to service center, field labor charges, or freight damage.
Contact us if you need more details on Commercial Washing Machines. We are ready to answer your questions on packaging, logistics, certification or any other aspects about Floor Cleaning Machine、Touchless
Automatic Car Wash
. If these products fail to match your need, please contact us and we would like to provide relevant information.
Product Categories : Pressure Washer Accessories > Quick Connectors